Here marks the fist installment of Keepin' Up with the Jones'. Today is also our 4 year anniversary…..unbelievable and so good. No mushy stuff I promise, but one of my very favorite things about us, is the way we travel together and the fact that we do it often. We both share a desire to move on and out of the Midwest, but over the last four years have come to see that being where we are allows us the freedom to pick up and go when ever we want, to where ever we want and we do. Keepin' up with these Jones' has nothing to do with possessions and everything to do with experiences.
We flew right out of South Bend at 9 a.m., transferred in Chicago and were in Seattle by noon.
During which time Jones confessed that he never had any intention to entertain my plan for us to only use the public transit system to get get around, you know to "really experience the city" as he had booked a rental car days ago…….but did book the economy option and was expecting something along the lines of a Ford Focus. Luckily for us our attendant was a rookie and clearly wanted to do a good job AND be cool, so when he made his offer to upgrade our selection to anything on the lot for just $10 a day Jones made no hesitation to say, "Well then, we'll take the Cadillac."
So I will admit, Jones won this one but we have both been thoroughly entertained by the fact that we are rolling through the narrow and rolling streets of Seattle, lined with Subaru's, VW's and Volvos in our all black Cadillac (or "The Sea-adillac" as we have taken to calling it) I mean can we make it anymore obvious that we aren't from around here?
Our first mission was food and found this great mexican place in the Queen Anne neighborhood north of down town. Out door seating, wi-fi, fish tacos and margarita's made this a great place to start.
Then we set off to the Ballard area to get settled into the place we rented from Air BnB, which is an incredible resource for travel. Similar to Couch Surfer in concept Air BnB is a great alternative to hotels. You can find places to stay all over the world ranging from high rise lofts, to guest bedrooms, to boat houses. We landed a great deal in a converted garage. Private, super affordable and our preferred location. I highly recommend checking it out for your next trip.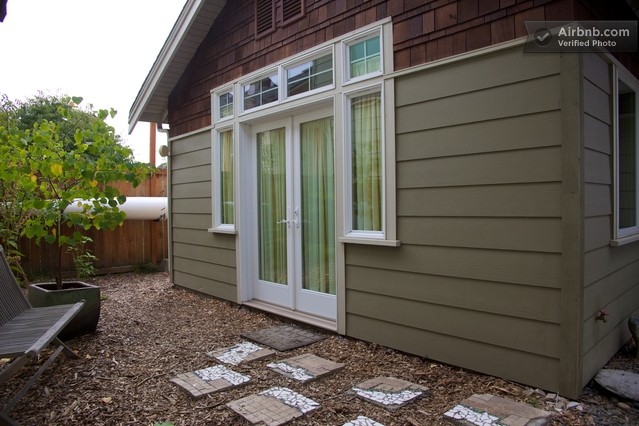 After relaxing for a bit we headed up a few blocks to Sunset Park….
We finished the night walking through Downtown Ballard and enjoyed a light snack at the old fire house now called Hi-Life and a nightcap at Hattie's Hat
Day 2 started off great at Cafe Besalu.
Now we have never been to Paris, so we can't truly comment on the rumor that these croissants and pastries are in close competition with the authenticly Parisian, but these are absolutely the best we have ever had.
Then off to Pike's Place Market, cause "you just have to."
and it's true. A pretty incredible selection of fresh produce, souvenirs and seafood, but it's also the kind of place, that draws the kind of crowd, that makes me growl out loud, so once we made it to Mick's Pepper Jelly Stand we made our escape and headed off to the Fremont neighborhood for their most incredible, SundayMarket. Booths and booths of crafts, antiques, food and fine art, which for me, definitely set the hook for this area of town. In fact I was enjoying myself too much to sit behind the camera and only got a shot of this great, locally made Ginger Ale….Original and Jasmine.
But we did enjoy some great food from Tandoozy's and I was so excited to meet an incredible handmade artist, and personal idol of mine, Moorea. 
Afterward we sat at the Fremont Coffee House and got online and relaxed until the sun went down, then strolled thru the darkened streets and ended up at The White Rabbit for an amateur comedy show, at which the funniest thing that happened was discovering that 2 other couples in the audience were from Indiana! We finished the night at The Ballroom, with incredible sangria, giant slices of pizza and the photo booth.